In this post we will show you how to do more profitable and rewarding dentistry using the One Visit Crown.
It is all too common for patients to reject crowns in favour of unprofitable large composite fillings, or to defer the treatment altogether. Considering crowns are the single most valuable procedure in dentistry, accounting for on average 30%[1] of practice revenue, smart dentists are discovering how the One Visit Crown (OVC) has a place in their practice to improve patient satisfaction, and their own productivity.
"When given the choice, most patients will opt for the lowest cost, and most time efficient solution presented to them." - Dr Simon McDonald.
According to Dentsply Sirona, 85% of patients prefer single-visit appointments[2], and two thirds of patients would even change dentists for a single visit crown!
The One Visit Crown is not only a better clinical alternative than a large composite filling, it is also more profitable for your practice than both a large filling or a lab crown. In fact, the numbers are quite astonishing. Based on the average Australian dental practice outlays and costings, if you were to convert 30% of your multi-surface restorations to the higher profit OVC, and you recouped 30% of those patients who had previously deferred crown treatment (see how to use the patient letter to recover deferred crowns), you are likely to make an additional AUD99,000 profit for your practice per year, per dentist! If there is more than one dentist in a practice, this additional profit is multiplied. Of course, each practice is different, which is why we have prepared a business case document where you can calculate the potential increase in profit based on your own situation.
Download this customisable excel spreadsheet to see how much additional profit you could generate for your specific practice.
There are a number of ways to present the One Visit Crown to your patients, to increase your chances of converting those multi-surface restorations. View some popular strategies of how to present the One Visit Crown to your patients here.
Dentists are discovering that by incorporating the One Visit Crown into their offering, their number of new patients have increased. Recommendations by friends and family members are driving new patients who come specifically for the OVC procedure.
Rhondium offers free patient marketing materials to help you make this happen in your own practice.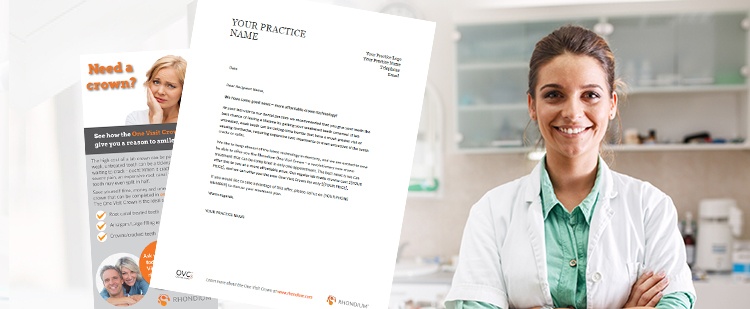 If you would like any more information about how to use the business case spreadsheet, or to talk through how you can incorporate the One Visit Crown into your patient offering, contact us on info@rhondium.com and one of our Product Specialists will be happy to help.
[1] Source: Dental Economics. http://www.dentaleconomics.com/articles/print/volume-106/issue-12/science-tech/are-the-changes-in-fixed-prosthodontics-mandatory-for-you.html
[2] Source: Dentsply Sirona – original source: Exevia GmbH – German dental patient survey, November 2015